When choosing
stand patio heater with ETL
, several factors should be considered to ensure optimal comfort and functionality. Here are key factors to consider when selecting outdoor heating solutions:
1. Heating Capacity: Evaluate the heating capacity of the outdoor heater, typically measured in BTUs (British Thermal Units). Consider the size of the outdoor area and the desired level of warmth to determine the appropriate heating capacity. Larger spaces or colder climates may require higher BTU ratings.
2. Heating Method: Outdoor heaters are available in various types, including propane, natural gas, electric, and wood-burning options. Consider the advantages and limitations of each heating method, such as convenience, fuel availability, cost, and environmental impact.
3. Safety Features: Prioritize safety by selecting outdoor heaters with essential safety features. Look for features like automatic shut-off mechanisms for tip-over protection and overheat protection. These safety features ensure safe operation and minimize the risk of accidents.
4. Weather Resistance: Outdoor heaters are exposed to the elements, so consider their durability and weather resistance. Look for models made from robust materials that can withstand outdoor conditions, including rain, wind, and UV exposure.
5. Mobility and Placement: Determine if you need a portable or fixed outdoor heating solution. Portable options offer flexibility in terms of placement and can be easily moved around as needed. Fixed heaters may require professional installation but provide a more permanent heating solution.
6. Energy Efficiency: Opt for outdoor heaters that are energy-efficient to reduce operating costs and minimize environmental impact. Look for models with energy-saving features, such as adjustable heat settings or timers, to control heat output and maximize efficiency.
7. Ease of Use: Consider the ease of use and control options of the outdoor heater. Look for models with user-friendly controls, ignition systems, and adjustable heat settings. Remote controls or smartphone-enabled controls can provide added convenience.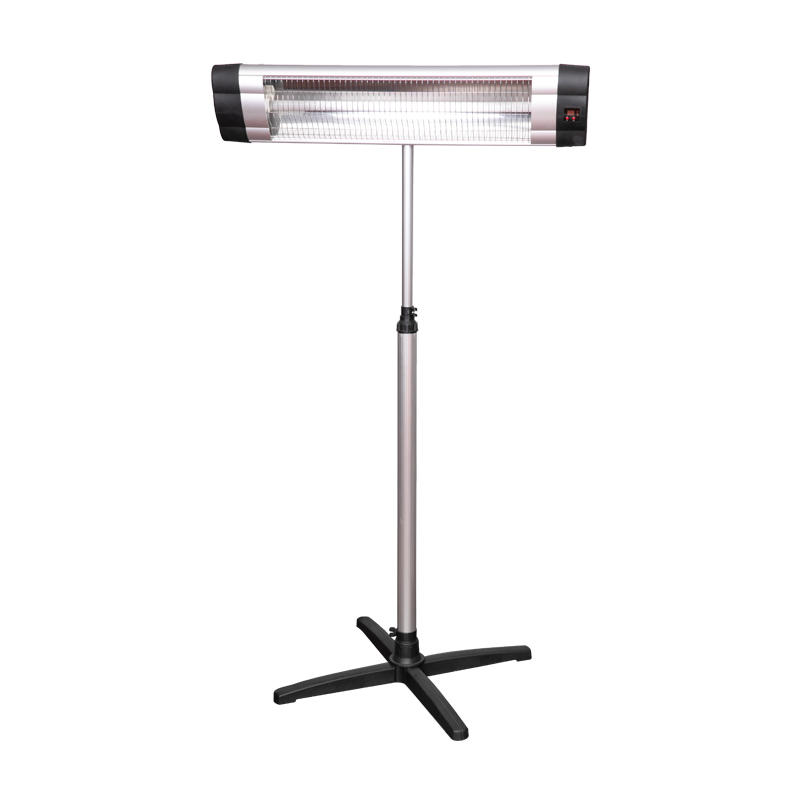 1. Heater type: vertical.
2. Heating element: gold tube.
3. With the switch of the warping plate, it is easy to operate.
4. Power cord specification: 3G*1.0MM2*2m.
5. Waterproof, waterproof grade: IP65.
6. Product certificate: CE GS SAA CB ROHS EMC.